S&S Spill Control specialize in all aspects of Spill Containment and Spill Control. Over the years, we have built up a vast range of different sump pallets etc to suit all spill control applications and to suit all pockets – we have very competitively priced products ranging through to enormous IBC cabinets costing thousands of pounds!
Allied to the spill containment range of sump pallet is our "Sorbtastic" range of absorbents to soak up most liquids you could spill! There are pads, socks and booms in varying thicknesses to suit different types of fluids and floor granules to efficiently absorb fluids on the floor making cleaning up much easier.
S&S Spill Control is a division of Steps and Stillages Ltd, an engineering firm specializing in the manufacture of mobile steps, metal stillages and trolleys etc for warehousing and industry. As the Spill Control product range had grown so large, S&S Spill Control was born as a new division to specialize in the spill sump pallet area and also to make the website more manageable and easier to navigate.
Steps and Stillages Ltd is a family firm based in Kettering, Northamptonshire, and spans two generations. Graham Reid is the Managing Director and probably in the best position to summarise us: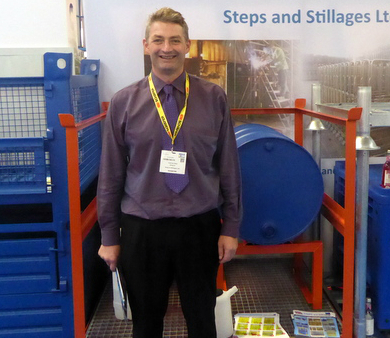 It was way back in the late 70's when my father first started the business while I was still at school in short trousers! We were an engineering firm involved mainly in the supply and repair of roll pallets for many of the main supermarkets and retailers. I spent most of my holidays in the factory, bashing metal and it meant I could weld before I could drive! I guess at least it meant I know the company and trade inside out!

As the company steadily grew, so our product ranges grew as well. Making steel spill sumps and containment tanks was a simple and logical step for us and suited our plant and machinery nicely. We then added in a range of plastic sump pallets to compliment our steel sumps, and soon after customer requests, we sourced a range of absorbent products.

Now, many years later, the sheer number of different sumps and cabinets we offered and the complexity of the website led us to the logical step of setting up the spill products in a new division…. And S&S Spill Control was born!

These days, we are a complete one-stop-shop for all your spill control needs. Our product range keeps growing with some products still made in-house and others sourced from reputable factories that I regularly audit. We have good stocks of all of the common items which can be despatched on the same day. Despite our growth, we remain a friendly and approachable company, so if you have any questions or want to deal over the phone, then please call us. If you are passing Kettering, by all means pop in and say hello and we will see if we can help you.