Spill Containment Sump Pallets
A sump pallet, or Spill pallet is means of secondary containment required when storing hazardous liquids. Should the IBC, drum, tin or plastic bottle etc fail, then there is a sump, bund or tray that the contents can spill into and as such are contained and not exposed to the environment.
Current Oil Storage Regulations for Business from the Environment Agency (6/5/15), state that for drums the secondary containment for a drum (usually a drip tray) must have a capacity equal to or more than 25% of the drum it's holding, and for Intermediate Bulk Containers (IBCs) and other single containers, the secondary containment must have capacity to hold 110% of the capacity of the container.
All sump pallets and bunded containers mush be fully watertight to water and oil and must not have any pipes or drainage valves fitted etc. Our spill containment range of sump pallets and drip trays is split into groups Steel construction and Plastic, or more accurately polyethylene.
Steel Sump Pallets
Our steel sump pallets are correctly designed for their capacity and fully weld tested. The metal spill pallets are both designed to contain their respective volumes of spilt and leaking fluid and also to be able to safely support the weight of the full drums and IBCs above.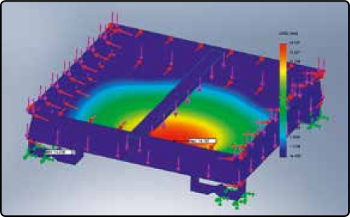 Each sump pallet is fully tested to ensure it is fully watertight using Dye Penetrant Inspection in accordance with UNI EN ISO 3834-3:2006, before being either powder coated or galvanized.
All the spill containment pallets are then individually certified and issued a serial number which is recorded on an identification plate on each sump pallet.
We have a large range of steel sump pallets and drip trays to suit various applications and budgets. Our steel spill pallets are very strong and heavy duty and ideal for use in a warehouse and forklift environment. Steel sump pallets are not suitable for containing acids and alkalis and various other corrosive liquids - check your product data sheet.
Polyethylene Spill Pallets
The corrosion resistance of polyethylene makes these spill pallets particularly suitable to the chemicals and food industry. A large proportion of our spill containment range is made from polyethylene so here is a little more info on the material.
In actual fact what we normally refer to as plastic is really polyethylene. Polyethylene, often shortened to polythene, is a derivate of ethylene, which is petroleum based and ultimately comes from refining crude oil. When petrol, diesel and LPG is refined from crude oil, naphtas are left over which are transformed into polyethylene, so polythene is considered an ecological and economical way of optimising a component of crude oil, one of the most important of our planets energy resources.
Our range of polyethylene spill pallets is made in Italy to high and exacting standards, conforming to UK and European regulations and certain models are load tested by RIN.

Our Spill Pallet Ranges
The plastic spill pallets are split into different spill containment ranges for Drums and small containers and for IBCs or intermediate bulk containers to give them their full name. These spill control ranges are then further split down into different styles of polyethylene sump pallets and for different budgets.
"Best of both worlds" Spill Pallets"
Steel sump pallets have a strength advantage over plastic spill pallets, especially regarding a forklift fork "spearing" or piercing the plastic spill pallet, or for sudden temperature changes. Polyethylene Spill pallets have the advantage over steel sump pallets in that they can contain spilt acids and alkalis and other corrosive liquid. How about a steel sump pallet with a polyethylene liner...